I'm going to mention FFXI again in this post, but it's not about FFXI. I promise!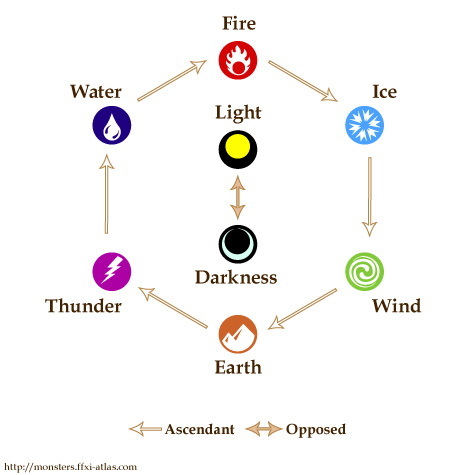 There are many systems going on under the hood in FFXI's combat. The world has a
week cycle
which progresses through 8 elementally-aligned days; each day lasts about 1 Earth hour. Each spell has an element associated with it, and using the skill during the element's day or the day that is weak to the skill's element will cause the spell to be more effectual. The other side of the coin is that if that spell in casted during the day that is strong against that spell's element, then the spell will be less potent.
Weapons have
damage types
which grant bonuses or dampen damage against certain foes. Popular leveling locations at the moment are filled with Colibris which are weak against piercing attacks. Thus Dragoons and polearm-weilding Samurai are hot jobs right now.
Less pervasive knowledge, but still important to those that can exploit it, the mobs themselves have a
counter system
. Attacking a bird with a crab wouldn't be a Beastmaster's first choice.
It's not the end of the world if a Dark Knight (using a Scythe) is invited to a Colibri party or a mage casts Fire II on Watersday. These are intricate systems that provide slight advantages (or disadvantages) to those who understand and capitalize on situations. Over a long enough timeline the optimizations add up, rewarding those who are more knowledgable, but sometimes it is unavoidable--healers will still cast Cure on Darksday regardless of the 10% less potency.
These systems make combat more nuanced--more mechanics to be learned and applied on the road to mastery. Spell rotations and weapons have more considations than just DPS at face value. Melee classes maintain several different weapons and use the appropriate blade depending on party composition and camp location. Monsters have more dimensions than just HP, and thus the world has a bit more personality and feels more alive.
How did we let studios remove these types of systems? Was it deemed too much baggage to get on the treadmill? Too complex for plebian minds?